The Orangery at Kronen Gaard Hotel
We look forward to welcoming you to our new orangery at Kronen Gaard Hotel in the summer of 2023.
This splendid greenhouse will serve as both a restaurant and a greenhouse. With views of the lush fields, delightful scents from the garden, and, most importantly, the delicious flavors from locally sourced ingredients and our own produce, this will be an oasis for our guests year-round.
The name "orangery" originates from palace gardens and parks in France in the 18th century. It was built as a more elegant greenhouse for cultivation, storage, and leisure, with higher ceilings and a more classic appearance.
Here, we will be able to accommodate around 100 guests who can enjoy the beautiful sight of green plants and herbs growing under the glass roof, and a stunning starry sky as evening descends.
We have extensive experience as hosts for weddings, Christmas parties, events, courses, and conferences of various sizes. Now, we are excited to create even more magical moments and make the orangery a place you'll long to return to.
We are happy to tailor your next event in the orangery to your preferences.
Please contact us for more information and inquiries at salg@kronen-gaard.no.
More information will be provided soon.
The yellow Swiss villa, hidden behind the majestic 1907 weeping beech tree, emerges as a brilliant sight as you drive into the courtyard. Here, amidst the beautiful cultural landscape and protective beech trees, lies our historical gem, just a 5-minute journey from Sandnes city center and 15 minutes from Sola Airport and Stavanger city center.
The history of Kronen Gaard
Rich in history, Kronen Gaard's main house was built in 1898 by a timber dealer named Gabriel Block Watne. Back then, the family used it as a summer residence, and it quickly became a place where family and friends gathered.
Today, Kronen Gaard Hotell offers elegant, traditional accommodation in the beautiful Sandnes countryside. The charm of its past has been preserved, and today the hotel is a member of The Historic Hotels and Restaurants of Norway.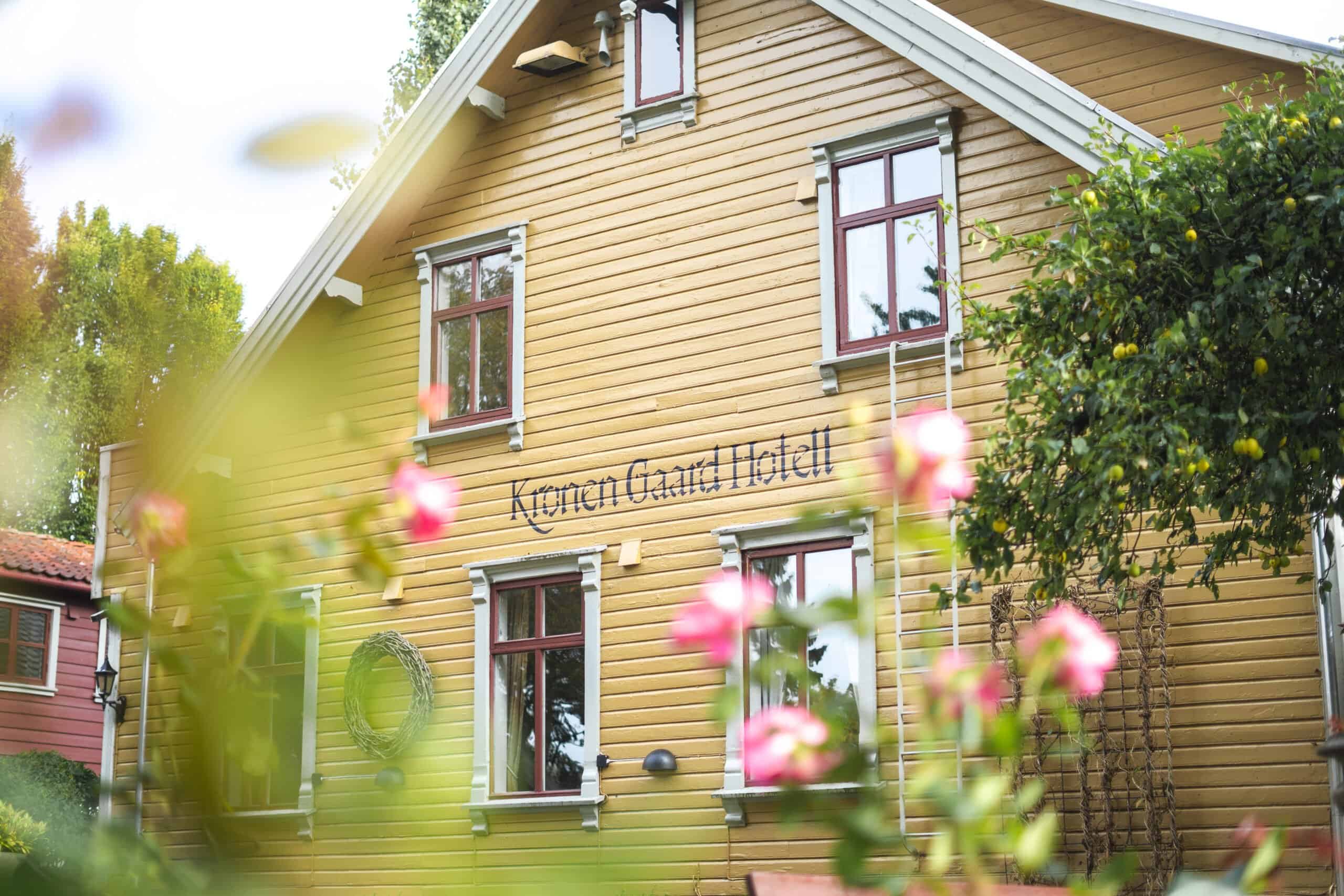 The food is the crown jewel
Kronen Gaard's food philosophy is that honesty lasts the longest. With real and honest food, we mean that the ingredients are sourced from local suppliers, and we prioritize pure flavors without too much decoration. This way, the food is influenced by the surroundings, contributing to anchoring the hotel with an original and authentic cuisine. We are so proud of our food that we have chosen to build the kitchen in an open layout, so that all our visitors can admire the culinary process and savor the aromas when their own meals are being prepared.
Kronen Gaard is one of The Historic Hotels and Restaurants.
The Historiske is a unique membership organization consisting of many of Norway's most charming hotels and restaurants. There are 65 hotels, 20 restaurants, and 1 boat that are members of the group.
To be awarded such a title, a conscious approach to the role of hosts is required, where storytelling forms the framework for experiences in accommodation and gastronomy. With the past as a backdrop, we aim to create new stories for our guests through exciting experiences. The hope is that these stories can continue to live in the guests' memories long after they have returned home.
Stay in one of our historical rooms
Get a good night's sleep and wake up to the chirping of birds and the rustling of trees in the beautiful Sandnes countryside. Breakfast is always included in your stay.
Our Standard Single Room has an ensuite bathroom and is perfect for single travellers. Each room is equipped with a work desk, TV, and hairdryer. Free Wi-Fi is available.
Our Standard Double Room has an ensuite bathroom and is equipped with a large double bed, work desk, TV, and hairdryer. Free Wi-Fi is available.
Our Junior Suite has an ensuite bathroom and is equipped with a large double bed, lounge area, work desk, TV, coffee machine, kettle, and hairdryer. Free Wi-Fi is available.
Our Suite is spacious in size and has en ensuite bathroom and separate living and dining room. The suite is equipped with one large double bed, a TV, coffee maker, kettle, and hairdryer. Free Wi-Fi is available.
Kronen Gaard Hotell is a beautiful gem in the idyllic Sandnes countryside. It is the perfect setting for a unique and romantic wedding in historical surroundings.
Hotel packages and short vacations
Enjoy active or relaxing days with us. Enjoy one of our packages and short vacations – whether it's a romantic evening for you and your partner, an exciting road trip along a historic route, or a beautiful summer boat trip into the majestic Lysefjord?
Discovery Route
A historical journey through the Norwegian fjords, from Stavanger to Bergen.
Discovery Route is the historic tourist route (Rv13) through Fjord Norway, from Stavanger to Bergen.
Established in the 1880s, when travellers came by horse and carriage to experience this spectacular landscape of mountains, glaciers, crystal clear rivers, roaring waterfalls, and pristine fjords. Today, this natural backdrop creates a unique diversity of outdoor activities and adventures. Whilst traveling the Discovery Route you will find iconic hiking trips, famous waterfalls, and some of the most visited attractions in Norway – Preikestolen & Trolltunga. Along the way, historical hotels will be your home.
Whether it's a birthday, anniversary, baptism, confirmation, summer party, Christmas party, or just gathering over a good meal, Kronen Gaard Hotell guarantees a memorable experience for all.
Christmas at Kronen Gaard Hotell
There's nothing quite like the holiday spirit at Kronen Gaard Hotell. We serve Christmas breakfast, lunch, and dinner for any size party throughout the holiday season.
We have extensive experience in arranging all kinds of weddings at Kronen Gaard Hotell. Your wedding day is one of those days you will remember forever. We'd love to help make that happen.
Whether it's a birthday, anniversary, or confirmation, wouldn't it be amazing to be able to sit back, relax, and trust that we will take care of everything? We have decades worth of experience in planning your special days.
A memorial is where friends and family gather over a meal to remember and honor the deceased following the funeral ceremony – a fitting end to a heavy day.